Cosmetic Dental Treatments can:
Change the size, shape, and alignment of certain teeth.

Fill in unattractive spaces between teeth.

Improve or correct bites.

Lighten or brighten the color of teeth.

Repair decayed, broken, cracked, or chipped teeth.

Replace old, unattractive dental treatments.
Remember, your smile speaks before you even say a word!
CEREC®
Chairside Economical Restorations of Esthetic Ceramic (CEREC®) has revolutionized dental procedures. Traditionally, if crowns, onlays, inlays or
dental veneers were required to restore damaged teeth, multiple procedures and a great deal of waiting time in-between would be inevitable. CEREC® creates these ceramic restorations within minutes in the dental office. This means that many treatments can be completed in just a single visit.
CEREC® is comprised of several computer-assisted design (CAD) tools and a milling machine that creates custom ceramic restorative devices. CEREC® can make almost any ceramic restoration to order, meaning the dentist can place it immediately. This is of great benefit to nervous patients, and it can also reduce the cost of treatment.
How can CEREC® benefit me?
CEREC® can benefit almost anyone needing a ceramic restoration device. Exceptions include patients who have a prior history of breaking ceramic devices and those with a deep bite. CEREC® devices are proven to last for over 5 years, but recent research indicates that most CEREC®-created restorations last for more than 10 years.
Here are some other advantages associated with CEREC®:
No temporary restorations.

High-quality ceramic products.

Minimal invasiveness.

Less injections and discomfort.

Fewer dental visits.

Cost effectiveness.

More natural tooth is saved.

Long lasting restorations.

Biocompatible solutions.
What is the CEREC® system comprised of?
The CEREC® System is sometimes called a CAD-CAM system. CAD-CAM means Computer Assisted Design and Computer Assisted Milling. The CEREC® system has three major components:
Acquisition device: This device is home to a high-quality camera and a medical grade computer. The function of this unit is to photograph the prepared tooth. Three-dimensional images are created of the tooth on the screen, which the dentist uses to design the perfect ceramic restoration.
Three-dimensional CAD software: This software allows the dentist to examine the tooth from every angle. It is the closest possible thing to holding the tooth in the hands and rotating it.
Milling device: This unit actually manufactures the custom restoration from the specifications entered into the computer. A ceramic block, which best resembles the existing tooth color is chosen and placed into the unit. Within minutes, the milling device produces the restoration the dentist designed. No horrible-tasting impressions or time-consuming transfers to and from the laboratory are required.
What does a CEREC® restoration procedure involve?
The first step in the procedure is to prepare the tooth. The dentist removes all tooth decay and creates a divergent occlusal axial wall, to make the opening of the tooth wider than the base. Next, an impression is made using a covering of titanium dust. This dust allows the camera to take a highly detailed picture of the tooth. Images are formulated with the CEREC® camera. CEREC®optical imaging utilizes an infrared wavelength.
The image is transposed onto the computer screen. It is here that the dentist is able to view the tooth from every angle and design the final restoration. When the design is complete, it is transmitted to the milling unit. The dentist chooses a block of ceramic that matches the color of the teeth. This ensures that the restoration will be almost invisible.
Within 15 minutes, the full crown, onlay, overlay or veneer is complete. The restoration is made of compressed, rather than laboratory-layered porcelain. This enhances strength and durability.
Before affixing the restoration to the tooth, the dentist will place it dry to ensure it fits perfectly. It is then polished and affixed to the tooth with dental cement. The procedure is now complete, and all without the need for a second visit! The quality of the results is the same as the laboratory-generated restoration, but a great deal of time and money has been saved.
If you have questions or concerns about CEREC®, please ask your dentist.
Zoom!®
A pearly-white smile is beautiful to look at and can greatly improve self-confidence.  Many people are opting for the Zoom!® Chairside Whitening System (Zoom!®) for fast, safe and effective teeth whitening.  Zoom!® combines the newest advances in dental technology with proven chemical formulas. This ensures that the bleaching experience is painless, and the results are satisfying.
There are many reasons why teeth become stained or discolored, including tobacco use, and drinking dark liquids such as red wine, coffee, tea, and cola.  However, the natural aging process and prescription medication use can also cause yellowing and graying.
There are literally hundreds of whitening treatments available in the marketplace, including take-home strips, bleaching toothpaste, and take-home whitening gels.  Many take-home gels are ineffective and may not elicit the desired results.
Zoom!® has many advantages over these other treatments, including:
All teeth treated simultaneously.

Faster treatment times.

Longer lasting results.

Reduced sensitivity.

Removal of stains on crowns, veneers, and other restorations.

Safe procedure and treatment.

Treatments are performed by an experienced professional.
It is important to seek advice from the dentist prior to beginning a bleaching regime.  Women who are pregnant or lactating should not seek bleaching treatment.
How does Zoom!® whiten the teeth?
Zoom!® is a bleaching process that lightens the dentin and enamel of the teeth.  Zoom!® contains a hydrogen peroxide component (25%), which is the active ingredient in the gel.  When hydrogen peroxide is applied to the teeth, the peroxide component breaks down into tiny oxygen bubbles.  It is these bubbles that eliminate yellowing and staining.
A mercury metal halide light is used to activate the gel and expedite the whitening process.  This specialized light contains a unique infrared filter that works to reduce the amount of heat (and therefore sensitivity) on the surface of the teeth during the procedure.  The internal structure of the teeth remains completely healthy and intact during and after the treatment.
As with any whitening system, the post-treatment results can vary according to the degree of staining and the condition of the teeth.  A consultation with the dentist prior to treatment will provide information as to what kind of results Zoom!® can provide in specific instances.  Zoom!® is only applied to healthy teeth and gums.  If tooth decay or gum disease is an issue, these need to be controlled before the bleaching treatment is performed.
How is the Zoom!® treatment performed?
Prior to treatment, there will be a consultation where the dentist will outline the exact procedure.  On treatment day, a deep cleaning (prophylaxis) will be performed to rid the teeth of any debris and plaque.  Then, special eyewear will be provided to protect the eyes from the halide light, and splash guards to protect the clothing from the bleaching agent.
Here is a brief overview of the Zoom!® procedure:
Cheek retractors will be placed to expose the entire surface of the teeth.

The gums will be painted or covered to reduce sensitivity.

The dentist will apply the whitening gel to the teeth.

The halide light will then be applied to activate the gel.  This specialized Zoom!® light can be positioned to work on all the teeth simultaneously.

After 15 minutes, the gel will be removed from the teeth and the mouth will be rinsed.

More gel will be applied for another 15 minutes.

Again, the gel will be removed and the mouth will be thoroughly cleansed.

The final treatment of gel will be applied for 15 minutes.

The gel will be removed for the final time.
What happens after treatment?
The same external factors that caused the discoloration in the first place can quickly work their way back onto the teeth.  For this reason, the dentist recommends flossing once a day, thorough cleaning with anti-sensitivity toothpaste twice a day, and occasional retreatment with Zoom!® Weekender.  These post-treatment measures will ensure that the smile stays at its whitest for a long time.
If you have questions about the Zoom!® Chairside System, please ask your dentist
Composite Fillings
A composite (tooth colored) filling is used to repair a tooth that is affected by decay, cracks, fractures, etc.  The decayed or affected portion of the
tooth will be removed and then filled with a composite filling.
There are many types of filling materials available, each with their own advantages and disadvantages.  You and your dentist can discuss the best options for restoring your teeth.  Composite fillings, along with silver amalgam fillings, are the most widely used today.  Because composite fillings are tooth colored, they can be closely matched to the color of existing teeth, and are more aesthetically suited for use in front teeth or the more visible areas of the teeth.
As with most dental restorations, composite fillings are not permanent and may someday have to be replaced.  They are very durable and will last many years, giving you a long-lasting, beautiful smile.
Reasons for composite fillings:
Chipped teeth.

Closing space between two teeth.

Cracked or broken teeth.

Decayed teeth.
How are composite fillings placed?
Composite fillings are usually placed in one appointment.  While the tooth is numb, your dentist will remove decay as necessary.  Space will then be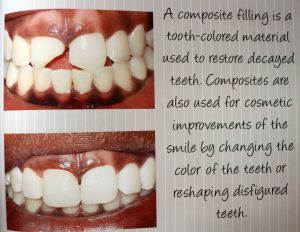 thoroughly cleaned and carefully prepared before the new filling is placed.  If the decay was near the nerve of the tooth, a special medication will be applied for added protection.  The composite filling will then be precisely placed, shaped, and polished, restoring your tooth to its original shape and function.
It is normal to experience sensitivity to hot and cold when composite fillings are first placed, however, this will subside shortly after your tooth acclimates to the new filling.
You will be given care instructions at the conclusion of your treatment.  Good oral hygiene practices, eating habits, and regular dental visits will aid in the life of your new fillings.
Porcelain Fixed Bridges
A dental bridge is a fixed (non-removable) appliance and is an excellent way to replace missing teeth.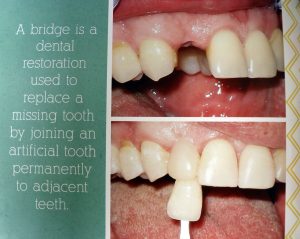 There are several types of bridges.  You and your dentist will discuss the best options for your particular case.  The "traditional bridge" is the most popular type and is usually made of porcelain fused to metal.  Porcelain fixed bridges are most popular because they resemble your natural teeth.  This type of bridge consists of two crowns that go over two anchoring teeth (abutment teeth) and are attached to pontics (artificial teeth), filling the gap created by one or more missing teeth.
Dental bridges are highly durable and will last many years, however, they may need replacement or need to be re-cemented due to normal wear.
Reasons for a fixed bridge:
Fill space of missing teeth.

Maintain facial shape.

Prevent remaining teeth from drifting out of position.

Restore chewing and speaking ability.

Restore your smile.

Upgrade from a removable partial denture to a permanent dental appliance.
What does getting a fixed bridge involve?
Getting a bridge usually requires two or more visits.  While the teeth are numb, the two anchoring teeth are prepared by removing a portion of enamel to allow for a crown.  Next, a highly accurate impression (mold) is made which will be sent to a dental laboratory where the bridge will be fabricated.  In addition, a temporary bridge will be made and worn for several weeks until your next appointment.
At the second visit, your permanent bridge will be carefully checked, adjusted, and cemented to achieve a proper fit.  Occasionally your dentist may only temporarily cement the bridge, allowing your teeth and tissue time to get used to the new bridge.  The new bridge will be permanently cemented at a later time.
You will receive care instructions at the conclusion of your treatment.  Proper brushing, flossing, and regular dental visits will aid in the life of your new permanent bridge.
Porcelain Veneers
Veneers are very thin pieces of durable, tooth shaped porcelain that are custom made (for shape and color) by a professional dental laboratory.  They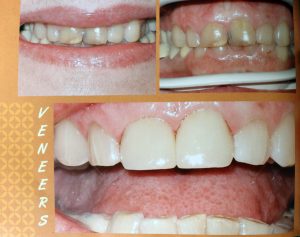 are bonded onto the front of teeth to create a beautiful and attractive smile.
Veneers can completely reshape your teeth and smile.  They can often be alternatives to crowns and the ideal solution in treating many dental conditions.
As with most dental restorations, veneers are not permanent and may someday need replacement.  They are very durable and will last many years, giving you a beautiful long lasting smile.
Reasons for porcelain veneers:
Cosmetically, to create a uniform, white, beautiful smile.

Crooked teeth.

Misshapen teeth.

Severely discolored or stained teeth.

Teeth that are too small or large.

Unwanted or uneven spaces.

Worn or chipped teeth.
What does getting porcelain veneers involve?
Getting veneers usually requires two visits to complete the process, with little or no anesthesia required during the procedure.  The teeth are prepared by lightly buffing and shaping the surface to allow for the thickness of the veneer.  A mold or impression of the teeth is taken and a shade (color) will then be chosen by you and the dentist.
On the second visit, the teeth will be cleansed with special liquids to achieve a durable bond.  Bonding cement is then placed between the tooth and veneer and a special light beam is used to harden and set the bond.
You will receive care instructions for veneers.  Proper brushing, flossing, and regular dental visits will aid in the life of your new veneers.
Tooth Whitening
Tooth whitening (or bleaching) is a simple, non-invasive dental treatment used to change the color of natural tooth enamel and is an ideal way to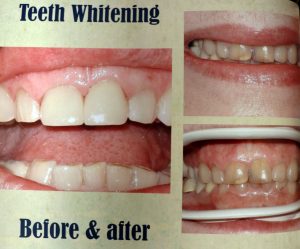 enhance the beauty of your smile.
Because having whiter teeth has now become the number one aesthetic concern of most patients, there are a number of ways to whiten teeth.  The most popular method is using a home tooth whitening system that will whiten teeth dramatically.  Since tooth whitening only works on natural tooth enamel, it is important to evaluate the replacement of any old fillings, crowns, etc.  Replacement of any restorations will be done after bleaching so they will match the newly bleached teeth.
Tooth whitening is not permanent.  A touch-up maybe needed every several years, and more often if you smoke, drink coffee, tea, or wine.
Reasons for tooth whitening:
Fluorosis (excessive fluoridation during tooth development).

Normal wear of outer tooth layer.

Stained teeth due to medications (tetracycline, etc.).

Yellow, brown stained teeth.
What does tooth whitening involve?
This type of tooth whitening usually requires two visits.  At the first appointment, impressions (molds) will be made of your teeth to fabricate custom, clear plastic, trays.
At your second appointment, you will try on the trays for proper fit, and adjustments will be made if necessary.  The trays are worn with special whitening solution either twice a day for 30 minutes or overnight for a couple of weeks depending on the degree of staining and desired level of whitening.  It is normal to experience tooth sensitivity during the time you are whitening your teeth, but it will subside shortly after you have stopped bleaching.
You will receive care instructions for your teeth and trays, and be encouraged to visit your dentist regularly to help maintain a beautiful, healthy, white smile.
  OPENING HOURS
Monday8:00AM – 4:30PM
Tuesday  8:00AM – 4:30PM
Wednesday  8:00AM – 3:30PM
Thursday  8:00AM – 4:30PM
Friday  8:00AM – 3:30PM
Saturday Closed
Sunday Closed
   (713) 839-0900
  OFFICE LOCATIONS

MEET OUR DOCTORS
OUR PRACTICE
We are a dental practice devoted to restoring and enhancing the natural beauty of your smile using conservative, state-of-the-art procedures that will result in beautiful, long lasting smiles!
HIGH STANDARDS
A standard of excellence in personalized dental care enables us to provide the quality dental services our patients deserve. We provide comprehensive treatment planning and use restorative and cosmetic dentistry to achieve your optimal dental health. Should a dental emergency occur, we make every effort to see and care for you as soon as possible.
EDUCATION & PREVENTION
As a practice, we are true believers that preventative care and education are the keys to optimal dental health. We strive to provide "dental health care" vs. "disease care". That's why we focus on thorough exams – checking the overall health of your teeth and gums, performing oral cancer exams, and taking x-rays when necessary. We also know that routine cleanings, flossing, sealants, and fluoride are all helpful in preventing dental disease. Not only are we focused on the beauty of your smile, we're also concerned about your health. A review of your medical history can help us stay informed of your overall health, any new medications, and any illnesses that may impact your dental health.
UNCOMPROMISING SAFETY
Infection control in our office is also very important to us. To protect our patients and ourselves, we strictly maintain sterilization and cross contamination processes using standards recommended by the American Dental Association (ADA), the Occupational Safety and Health Administration (OSHA), and the Center for Disease Control (CDC).
TRAINING & EXPERTISE
As your dental health professionals, we want you to be confident knowing that we are a team of highly trained and skilled clinicians. We pride ourselves in providing the care you need to keep your smile healthy. To give you the best possible service and results, we are committed to continual education and learning. We attend dental lectures, meetings, and dental conventions to stay informed of new techniques, the latest products, and the newest equipment that a modern dental office can utilize to provide state-of-the-art dental care. Also, being members of various professional dental associations helps us to stay abreast of the changes and recommendations for our profession.
A POSITIVE EXPERIENCE
Building a foundation of trust by treating our patients as special individuals is vital to our success. We understand how uneasy some patients may feel about their dental visits, and how we can make a difference in providing a relaxing and positive experience. Our entire team is dedicated to providing you with excellent, personalized care and service to make your visits as comfortable and pleasant as possible.
We thank you for allowing us to take care of your dental needs and look forward to serving you.
Make an appointment today…..we'll give you a reason to smile!

OUR PATIENTS SAY
The care and professionalism of the staff are impeccable.
I adore Beechnut dental care and I have recommended it to two current clients Reginald French and June O'Neill. Can I get a free teeth whitening?? LOL
Very pleased that the dentist asked questions first and then suggested that I didn't need to be numbed. Made the appt go quicker and felt no pain at all during the procedure.
Make An Appointment
The first step towards a beautiful, healthy smile is to schedule an appointment. Please contact our office by phone or complete the appointment request form below.
Our scheduling coordinator will contact you to confirm your appointment.
Please do not use this form to cancel or change an existing appointment.
*Items in bold are required.