Cleanings & Prevention
A preventive program is a cooperative effort by the patient, dentist, and dental staff to preserve the natural dentition and supporting structures by preventing the onset, progress, and recurrence of dental diseases and conditions.
Preventing dental disease starts at home with good oral hygiene and a balanced diet.  It is continued in the dental office by the efforts of your dentist and dental hygienist to promote, restore, and maintain your oral health.
Prevention also includes regular dental exams, cleanings, and x-rays. Sealants and fluoride are also great preventive treatments that help protect the teeth.
Prevention helps avoid serious and costly dental problems and is the key to having a healthy, confident, beautiful smile.
Dental Exams & Cleanings
Oral Cancer Exam
Digital X-Rays
Fluoride Treatment
How to Properly Wash & Floss
Sealants
Dental Exams & Cleanings
Dental Exam
A comprehensive dental exam will be performed by your dentist at your initial dental visit.  At regular check-up exams, your dentist and hygienist will include the following:
Examination of diagnostic x-rays (radiographs): Essential for detection of decay, tumors, cysts, and bone loss.  X-rays also help determine tooth and root positions.
Oral cancer screening: Check the face, neck, lips, tongue, throat, tissues, and gums for any signs of oral cancer.
Gum disease evaluation: Check the gums and bone around the teeth for any signs of periodontal disease.
Examination of tooth decay: All tooth surfaces will be checked for decay with special dental instruments.
Examination of existing restorations: Check current fillings, crowns, etc.
Professional Dental Cleaning
Professional dental cleanings (dental prophylaxis) are usually performed by Registered Dental Hygienists.  Your cleaning appointment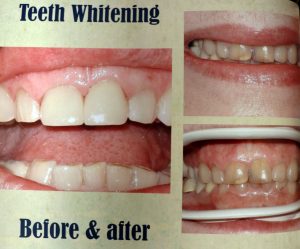 will include a dental exam and the following:
Removal of calculus (tartar): Calculus is hardened plaque that has been left on the tooth for some time and is now firmly attached to the tooth surface.  Calculus forms above and below the gum line and can only be removed with special dental instruments.
Removal of plaque: Plaque is a sticky, almost invisible film that forms on the teeth.  It is a growing colony of living bacteria, food debris, and saliva.  The bacteria produce toxins (poisons) that inflame the gums.  This inflammation is the start of periodontal disease!
Teeth polishing: Remove stain and plaque that is not otherwise removed during tooth brushing and scaling.
Oral Cancer Exam
According to research conducted by the American Cancer Society, more than 30,000 cases of oral cancer are diagnosed each year.  More than 7,000 of these cases result in the death of the patient.  The good news is that oral cancer can easily be diagnosed with an annual oral cancer exam, and effectively treated when caught in its earliest stages.
Oral cancer is a pathologic process which begins with an asymptomatic stage during which the usual cancer signs may not be readily noticeable.  This makes the oral cancer examinations performed by the dentist critically important.  Oral cancers can be of varied histologic types such as teratoma, adenocarcinoma, and melanoma.  The most common type of oral cancer is the malignant squamous cell carcinoma.  This oral cancer type usually originates in lip and mouth tissues.
There are many different places in the oral cavity and maxillofacial region in which oral cancers commonly occur, including:
Lips

Mouth

Tongue

Salivary Glands

Oropharyngeal Region (throat)

Gums

Face
Reasons for oral cancer examinations
It is important to note that around 75 percent of oral cancers are linked with modifiable behaviors such as smoking, tobacco use, and excessive alcohol consumption.  Your dentist can provide literature and education on making lifestyle changes and smoking cessation.
When oral cancer is diagnosed in its earliest stages, treatment is generally very effective.  Any noticeable abnormalities in the tongue, gums, mouth or surrounding area should be evaluated by a health professional as quickly as possible.  During the oral cancer exam, the dentist and dental hygienist will be scrutinizing the maxillofacial and oral regions carefully for signs of pathologic changes.
The following signs will be investigated during a routine oral cancer exam:
Red patches and sores – Red patches on the floor of the mouth, the front and sides of the tongue, white or pink patches which fail to heal and slow healing sores that bleed easily can be indicative of pathologic (cancerous) changes.

Leukoplakia – This is a hardened white or gray, a slightly raised lesion that can appear anywhere inside the mouth. Leukoplakia can be cancerous or may become cancerous if treatment is not sought.

Lumps – Soreness, lumps or the general thickening of tissue anywhere in the throat or mouth can signal pathological problems.
Oral cancer exams, diagnosis, and treatment
The oral cancer examination is a completely painless process.  During the visual part of the examination, the dentist will look for abnormality and feel the face, glands, and neck for unusual bumps.  Lasers which can highlight pathologic changes are also a wonderful tool for oral cancer checks.  The laser can "look" below the surface for abnormal signs and lesions which would be invisible to the naked eye.
If abnormalities, lesions, leukoplakia or lumps are apparent, the dentist will implement a diagnostic impression and treatment plan.  In the event that the initial treatment plan is ineffective, a biopsy of the area will be performed.  The biopsy includes a clinical evaluation which will identify the precise stage and grade of the oral lesion.
Oral cancer is deemed to be present when the basement membrane of the epithelium has been broken.  Malignant types of cancer can readily spread to other places in the oral and maxillofacial regions, posing additional secondary threats.  Treatment methods vary according to the precise diagnosis but may include excision, radiation therapy, and chemotherapy.
During bi-annual check-ups, the dentist and hygienist will thoroughly look for changes and lesions in the mouth, but a dedicated comprehensive oral cancer screening should be performed at least once each year.
If you have any questions or concerns about oral cancer, please ask your dentist or dental hygienist.
Digital X-Rays
Digital radiography (digital x-ray) is the latest technology used to take dental x-rays.  This technique uses an electronic sensor (instead of x-ray film) that captures and stores the digital image on a computer.  This image can be instantly viewed and enlarged helping the dentist and dental hygienist detect problems easier.  Digital x-rays reduce radiation 80-90% compared to the already low exposure of traditional dental x-rays.
Dental x-rays are essential, preventative, diagnostic tools that provide valuable information not visible during a regular dental exam.  Dentists and dental hygienists use this information to safely and accurately detect hidden dental abnormalities and complete an accurate treatment plan.  Without x-rays, problem areas may go undetected.
Dental x-rays may reveal:
Abscesses or cysts.

Bone loss.

Cancerous and non-cancerous tumors.

Decay between the teeth.

Developmental abnormalities.

Poor tooth and root positions.

Problems inside a tooth or below the gum line.
Detecting and treating dental problems at an early stage may save you time, money, unnecessary discomfort, and your teeth!
Are dental x-rays safe?
We are all exposed to natural radiation in our environment.  Digital x-rays produce a significantly lower level of radiation compared to traditional dental x-rays.  Not only are digital x-rays better for the health and safety of the patient, they are faster and more comfortable to take, which reduces your time in the dental office.  Also, since the digital image is captured electronically, there is no need to develop the x-rays, thus eliminating the disposal of harmful waste and chemicals into the environment.
Even though digital x-rays produce a low level of radiation and are considered very safe, dentists still take necessary precautions to limit the patient's exposure to radiation.  These precautions include only taking those x-rays that are necessary, and using lead apron shields to protect the body.
How often should dental x-rays be taken?
The need for dental x-rays depends on each patient's individual dental health needs.  Your dentist and dental hygienist will recommend necessary x-rays based upon the review of your medical and dental history, a dental exam, signs and symptoms, your age, and risk of disease.
A full mouth series of dental x-rays is recommended for new patients.  A full series is usually good for three to five years.  Bite-wing x-rays (x-rays of top and bottom teeth biting together) are taken at recall (check-up) visits and are recommended once or twice a year to detect new dental problems.
  OPENING HOURS
Monday8:00AM – 4:30PM
Tuesday  8:00AM – 4:30PM
Wednesday  8:00AM – 3:30PM
Thursday  8:00AM – 4:30PM
Friday  8:00AM – 3:30PM
Saturday Closed
Sunday Closed
   (713) 839-0900
  OFFICE LOCATIONS

MEET OUR DOCTORS
OUR PRACTICE
We are a dental practice devoted to restoring and enhancing the natural beauty of your smile using conservative, state-of-the-art procedures that will result in beautiful, long lasting smiles!
HIGH STANDARDS
A standard of excellence in personalized dental care enables us to provide the quality dental services our patients deserve. We provide comprehensive treatment planning and use restorative and cosmetic dentistry to achieve your optimal dental health. Should a dental emergency occur, we make every effort to see and care for you as soon as possible.
EDUCATION & PREVENTION
As a practice, we are true believers that preventative care and education are the keys to optimal dental health. We strive to provide "dental health care" vs. "disease care". That's why we focus on thorough exams – checking the overall health of your teeth and gums, performing oral cancer exams, and taking x-rays when necessary. We also know that routine cleanings, flossing, sealants, and fluoride are all helpful in preventing dental disease. Not only are we focused on the beauty of your smile, we're also concerned about your health. A review of your medical history can help us stay informed of your overall health, any new medications, and any illnesses that may impact your dental health.
UNCOMPROMISING SAFETY
Infection control in our office is also very important to us. To protect our patients and ourselves, we strictly maintain sterilization and cross contamination processes using standards recommended by the American Dental Association (ADA), the Occupational Safety and Health Administration (OSHA), and the Center for Disease Control (CDC).
TRAINING & EXPERTISE
As your dental health professionals, we want you to be confident knowing that we are a team of highly trained and skilled clinicians. We pride ourselves in providing the care you need to keep your smile healthy. To give you the best possible service and results, we are committed to continual education and learning. We attend dental lectures, meetings, and dental conventions to stay informed of new techniques, the latest products, and the newest equipment that a modern dental office can utilize to provide state-of-the-art dental care. Also, being members of various professional dental associations helps us to stay abreast of the changes and recommendations for our profession.
A POSITIVE EXPERIENCE
Building a foundation of trust by treating our patients as special individuals is vital to our success. We understand how uneasy some patients may feel about their dental visits, and how we can make a difference in providing a relaxing and positive experience. Our entire team is dedicated to providing you with excellent, personalized care and service to make your visits as comfortable and pleasant as possible.
We thank you for allowing us to take care of your dental needs and look forward to serving you.
Make an appointment today…..we'll give you a reason to smile!

OUR PATIENTS SAY
The care and professionalism of the staff are impeccable.
I adore Beechnut dental care and I have recommended it to two current clients Reginald French and June O'Neill. Can I get a free teeth whitening?? LOL
Very pleased that the dentist asked questions first and then suggested that I didn't need to be numbed. Made the appt go quicker and felt no pain at all during the procedure.
Make An Appointment
The first step towards a beautiful, healthy smile is to schedule an appointment. Please contact our office by phone or complete the appointment request form below.
Our scheduling coordinator will contact you to confirm your appointment.
Please do not use this form to cancel or change an existing appointment.
*Items in bold are required.